This week, over the span of just 24 hours, we saw a rate cut-driven market rally of nearly 1,170 points plummet down 900 points.
The market moved back and forth a total of 3,253 points in just the first three days of the week. Treasury yields sank to record lows as these wild swings continue.
And you better hang on to your hats because this market whipsawing isn't going anywhere anytime soon.
Now, if you were following along last week, I told you to make sure you keep those trailing stops nice and tight. I do realize that some of you are all stopped out and wondering, "What's next?"
Or, more specifically, "Is it time to buy?" and "What do I buy?"
While I believe that most stocks are a bit too risky and volatile to buy right now, I am getting my wish list ready. It's growing by the minute.
With so many stocks "on sale" right now, there are six criteria I'm starting with to find my next best buys…
Global Growth Isn't Stopping, and Neither Should You
Most investors will not see what we're going to talk about today, because they're frozen like deer in the proverbial headlights.
Admittedly, it's hard not to be.
There will be more bad news about the coronavirus ahead. The presidential elections are going to make a disorderly kindergarten class look tame compared to headlines that even Hollywood couldn't come up with. The IMF, WHO, and CDC, along with every other alphabet-soup agency out there, will warn about global growth.
All of those things are true – but so what?
The thing is, global growth may slow, but it will not stop.
Say it twice, or tape the following chart to your mirror if you must.
Capital is a constantly expanding resource, and you can see that clearly in this chart highlighting the last 2,000 years of economic history.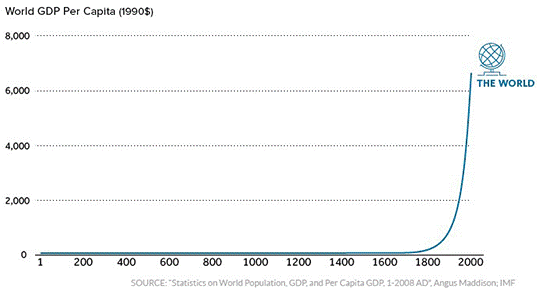 World GDP Per Capita
Everything is not going to grind to a halt. There are still companies out there with plenty of profit potential.
To be clear, I'm not suggesting you throw caution to the wind and pile in. That's a sucker's game, given the headlines. "Buying the dip" is exactly what Wall Street wants you to do. It helps them separate you from your money.
What I'm urging is a measured, risk-based approach that's proven to line up profit potential.
And you only need to use a small fraction of your portfolio to "get in." Even a few hundred bucks or just 1% of your cash on hand could mean the difference between getting taken to the cleaners and fighting back profitably.
So how can you determine exactly where you can get into profit? Simple – by using screens. A screen is a tool that lets you filter stocks based on specific, data-driven metrics.
Many investors use screens to figure out where to look to find the stocks poised to perform well over time no matter what's going on in the market.
The goal is to identify a list of solid companies with enough liquidity, quality, and growth needed to be worth the risk of ownership when things go south.
Here's a screen you can use to get started:
Market capitalization greater than $1 billion.
Altman Z-Score greater than 2.
Yield above the average S&P 500 stock.
Payout ratio less than 60%.
Dividend growth greater than 5% over the past five years.
At least two consecutive years of dividend increases.
Feel free to tweak the criteria to match your personal objectives and risk tolerance; this is merely a starting point intended to help you identify great companies that have been put on sale.
That's something a lot of investors are missing right now.
The temptation is to think the sky is falling, but that's not really the situation as long as the business case for owning companies like the ones that will come up in this screen remains intact.
Take Lockheed Martin Corp (NYSE:LMT), for example.
The stock has been beaten down mercilessly from a high of $442.53 on Feb. 11 to $387.21, where it's trading as I type. On the surface, that looks terrible, but the business case – to my point – remains rock-solid:
Fundamentally strong defense contractor with a $115 billion market cap.
Yield 2.5%.
Payout ratio is a low 41%, meaning there's plenty of extra capacity.
Five-year dividend growth rate is 10.3%.
Eighteen years of dividend increase.
The company has top-line growth from $47.25 billion in 2016 to $59.8 billion in 2019, and that's not something that will simply vanish… virus or no virus, no matter who's in the White House, no matter what the Fed does next.
Drug companies… similar story.
Big Tech… same thing, with the added twist that many will substantially increase profits if people are homebound.
I know it's tempting to run for the hills. I get that. But you are not alone – I'm right there with you.
I've been actively involved in the financial markets for 37 years and a keen student of history for even longer. And if there's one thing that I've learned in all that time, it is that it always pays to play offense. Always!
Adjust your tactics if you have to, refine your purchases, or simply be choosier.
But we have more computing power than any other time in history working on the coronavirus situation, and anybody who doubts that we will fix this is mistaken.
And I will be with you every step of the way.