How many students do you need to return to spring term in order to accomplish your desired fall-to-fall retention outcome? Many of us have spent years trying to assess how we might predict this. I hope this blog will outline some examples which might just help you accomplish this task.
I was talking to one of my partner schools about this concept, and I advised that the first step is to assess what normal patterns are. For instance, what is the normal attrition rate from fall-to-spring and how does that usually translate into your fall-to-fall retention outcome. Consider this example.
During 2014-2018, the "University of Culver" achieved an average first-year retention rate of 79.9 percent—that's pretty good—which meant that average attrition was 20.1 percent. The loss was 7 percent after term one with an additional 13.1 percent loss from spring to fall.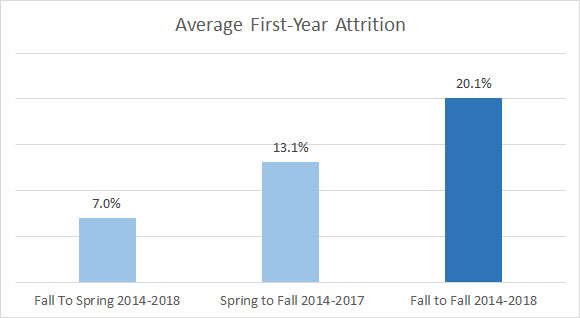 Some believe, as many times I do, that fall-to-spring attrition is "natural." That might mean that you're always going to lose that many students as that's the time when students and their families make decisions about re-enrollment. I don't always believe this idea because many schools might have more low-hanging-fruit opportunities than others. Nevertheless, using this type of assessment is a good start for predicting your fall-to-fall retention outcome.
If you lose more than 7 percent after term one, perhaps there was an attrition event—something happened which wasn't normal, such as a program was discontinued, a beloved coach left, or an issue which made students feel less safe. The same kind of assessment could be made for spring-to-fall outcomes. On a positive note, you might have implemented new and innovative strategies which made your fall-to-spring and spring-to-fall outcomes get better. Whatever happens, starting with the average attrition pattern example above will give you a fairly decent prediction.
Benchmarking fall-to-fall retention: How does your institution compare?
Benchmarking is not a perfect science and requires a lot of art. In 2017, RNL conducted one of the first national polls of campus retention professionals on persistence, progression, and retention, which we published as the Student Retention Indicators Report. If you download the report, you'll find the graphic below on median attrition by institution type. Results such as these will give you a good idea on how you compare to your peer institutions.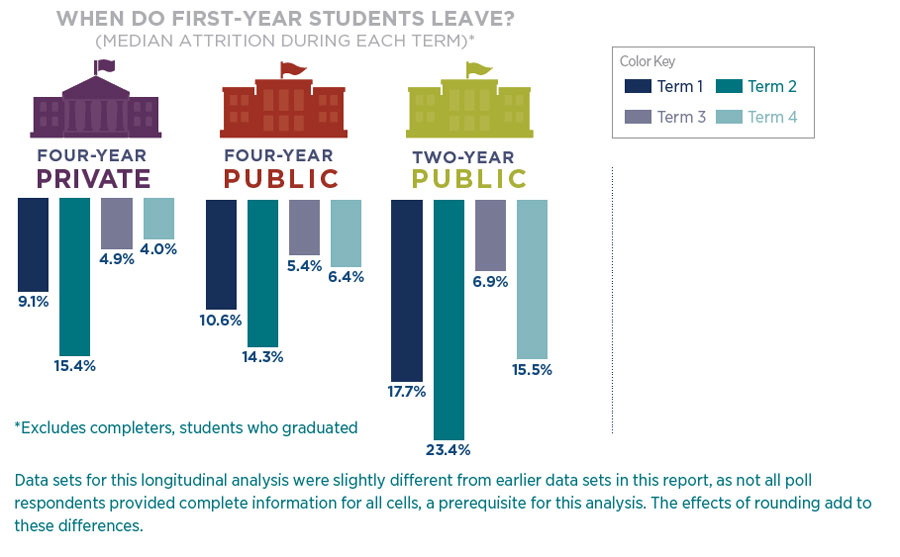 At the 2020 RNL National Conference this July in Chicago, I also hope to present a session on the art and science of benchmarking.
Now that you have begun this assessment and prediction process what's next? I hope in my next entry to talk about re-enrollment strategies. None of you get up in the morning and go do Retention. You provide a wonderful experience for you students and that translates into retention. Retention is an outcome. Student success and re-enrollment strategies are really what we do.
What's your favorite re-enrollment or student success strategy? What should we focus on? Please email me with your answers and I'll feature them in the next blog, or contact me if you have questions about your retention challenges and we can talk through them.
Participate in our 2020 Retention Benchmark Poll
RNL is conducting the next survey of our retention indicators and we invite you to participate. Complete the poll by March 6 so we can continue to provide these types of benchmarks for you.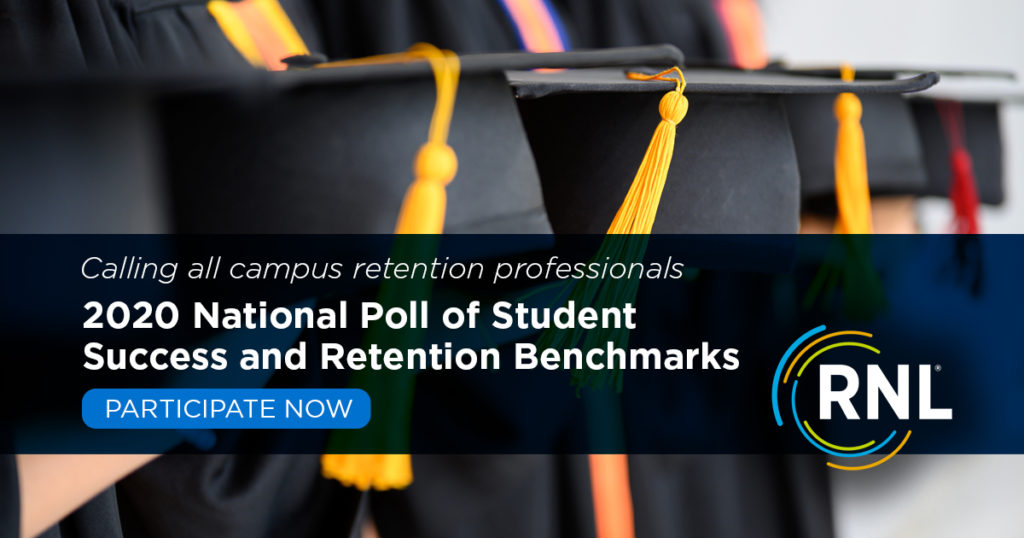 The post Time to Count! How Does Your Fall-to-Spring Retention Rate Help You Predict Your Fall 2020 Outcome? appeared first on Ruffalo Noel Levitz.