Have we just witnessed the beginning of the
decline of a giant? That was the thought I had as I read this year's Application
Trends Survey Report 2019 from the Graduate Management Admissions Council
(GMAC), which reported a 3.1 percent year-over-year decline in graduate management
applications.
GMAC's annual survey tracks application trends among more than 1,000 programs (all types of MBA programs as well as other business master's degrees) at 336 business schools in the United States and abroad. It has become a go-to source for data that are far more recent than any other source—with results from as recently as fall 2019.
In our recent work, we have helped our campus clients confront likely indicators of sagging interest in MBA programs and the MBA recruitment challenges more programs now face. Inquiries are down, conversions more difficult, and/or enrollment is not as robust as was planned for. As I prepare data for clients, I regularly see that the number of MBAs produced in any given region significantly outpaces the estimates of annual job openings in business administration fields typically filled by master's degree holders (see below). These data make me wonder if we have reached a market saturation that will start to affect enrollment.
Click on the charts for larger versions.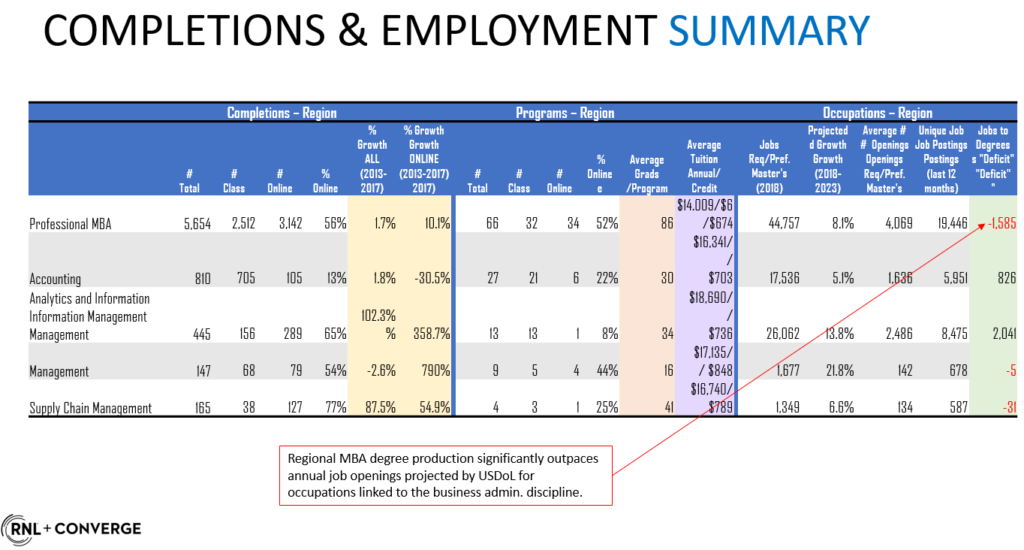 GMAC by the Numbers
Total Applications: In what may be a harbinger of the future, total business school applications were down by 3.1 percent when compared with 2018. This was driven by a 6.9 percent decline in MBA applications (which currently comprise two-thirds of all business school applications). Total declines were mitigated by applications to other types of graduate business programs increasing by 5.4 percent, but because they are only about one-third of total applications, this had a limited effect on minimizing total declines.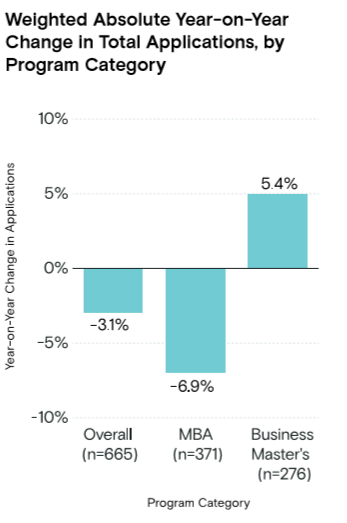 MBA: After year-over-year increases of 9.5 percent in 2017 and 3.7 percent in 2018, this year's application decline of 6.9 percent likely came a shock to many working in business school admissions offices. Consistent with much of the past research I have conducted among working professional graduate students, more flexible programs fared better than the more traditional ones. In fact, while 73 percent of traditional two-year MBA programs reported a decline in enrollment, only 56 percent of flexible and 54 percent of part-time programs reported declines.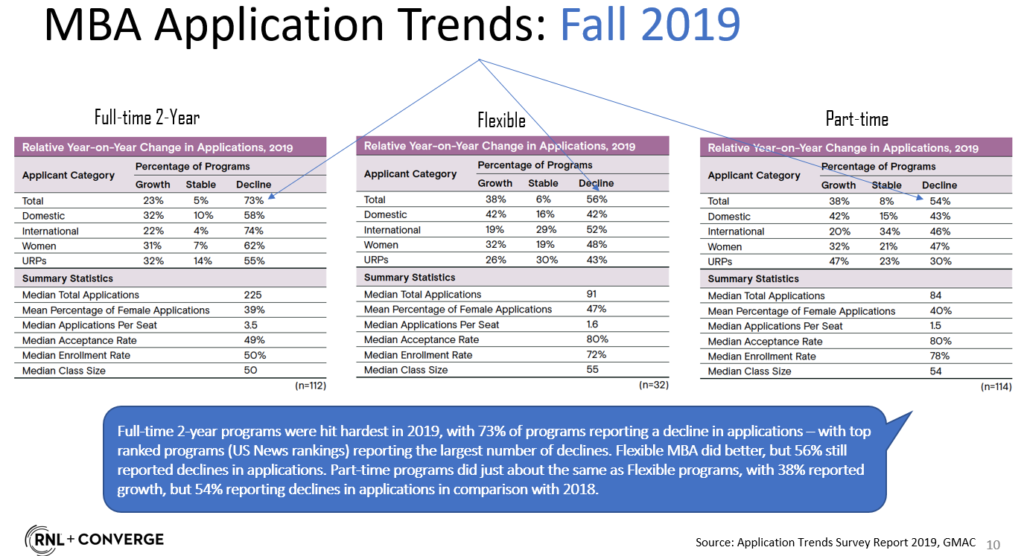 GMAC also indicated that 89 percent of programs ranked in the top 50 by U.S. News and World Report reported application declines—compared to 69 percent of those ranked 51-100 and only 54 percent of those that are unranked. Just this week (and featured elsewhere in this newsletter), Poets and Quants reports that Harvard Business School is making significant moves in its online MBA program, a strategic choice that may have been made as a direct response to the data contained in the GMAC report.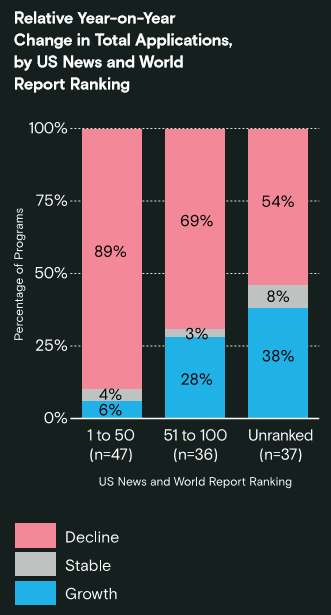 Online programs are not yet fully represented in the GMAC study, but they fared best of all with 60 percent of participating programs reporting growth or no change. The success of online programs is another indicator of the decision making of many graduate students to willingly sacrifice "quality" indicators in the name of flexibility and convenience.
Other Master's: Among the other business master's degrees, data analytics and finance had the largest number of median applications, while accounting and information technology had the smallest number. When looking at year-over-year growth in applications, data analytics was in the best position with only 42 percent of programs reporting declines in applications, while information technology and accounting programs reported more than 60 percent of those programs having experiencing declines in applications.
| | | |
| --- | --- | --- |
| Program | Median Number of Apps | % of Programs Reporting YoY Declines |
| Data Analytics | 165 | 42% |
| Finance | 133 | 57% |
| Management | 92 | 49% |
| Marketing | 79 | 50% |
| Accounting | 69 | 60% |
| Information Technology | 63 | 63% |
| Supply Chain Management | 50 | 50% |
Source: GMAC, Applications Trends Survey Report 2019
The struggle for applicants and enrollment growth that programs in accounting, finance, and information technology find themselves in is something I have investigated many times over recent years. Year after year, these program areas have significantly more related job openings in their geographical regions than the available number of graduates with those degrees, as this chart illustrates: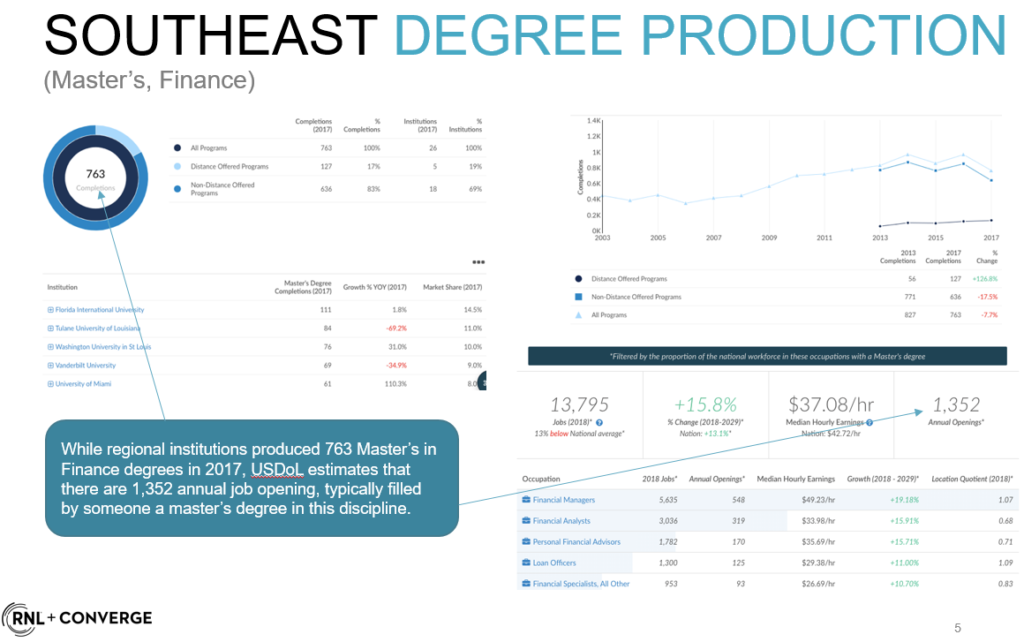 While the public has recognized some disciplines—such
as nursing—as degree areas with many available job openings, the same
perception has not necessarily applied to areas such as finance, accounting,
and even information technology. It may behoove these programs to focus more
attention on the robust numbers of jobs available to graduates.
Conclusion: Programs need to address their MBA recruitment challenges with data-driven enrollment strategies
The GMAC report, as well as my own research
over the last year, make it clear that American business schools are
confronting a set of new challenges related to:
A
shrinking market
An
ever-rising number of program options
Public
willingness to choose a program of lesser quality that otherwise meets their
needs
These challenges require that programs elevate their approach to marketing, cultivation, and enrollment with analytics, digital advertising, rapid response to inquiries and applications, and similar forward-thinking strategies. The successful institution will not only have a clear, research-driven understanding of the demands and preferences of their prospective students, but also messaging that connects with them in the channels they use every day.
Let's talk about how to address your challenges in graduate enrollment
RNL will be presenting and exhibiting at the 2020 GMAC Annual Conference. I do recommend you attend this year to learn from experts and professionals in the field.

We also are ready to talk with you right now.
We have worked with hundreds of graduate programs in business and other
professional fields, and our data-driven approach helps them put their time and
resources toward strategies that produce enrollment results. Ask for a
free consultation with my colleagues to assess how you can meet today's
emerging challenges.
The post GMAC Documents MBA Recruitment Challenges appeared first on Ruffalo Noel Levitz.