As the demographic shifts in the United States cause an undergraduate enrollment crunch, universities will need to find ways to fill in the enrollment gaps. Graduate students are a logical market for institutions to expand their enrollment reach, but many campuses are not nearly as savvy about graduate student marketing and recruitment as they are about the undergraduate market. The negative aspect of this is that the graduate market creates its own set of significant challenges for enrollment managers, so it is imperative that universities shore up these deficiencies if they wish to enroll the graduate students they really want.
This became very clear to me after RNL and NAGAP conducted a poll of enrollment managers about graduate student marketing and recruitment. Nearly 80 institutions responded for our national report. There's plenty of actionable data in this 20-page report, which you can download now. But these five takeaways struck me as particularly pertinent to enrollment managers. I have also included relevant charts from the report.
1) Graduate programs are not meeting the demands of a large portion of students
Two of our questions examined the academic calendar options graduate programs offered as well as the available formats for classes. (Click on the charts below for larger versions.)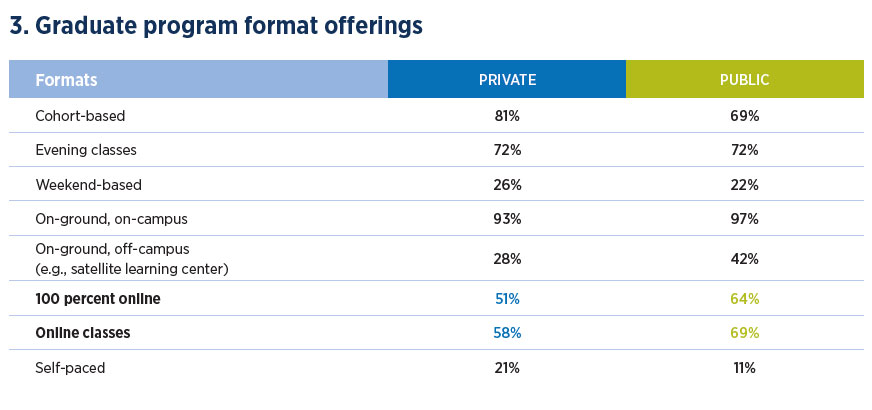 These two results show graduate programs lagging behind the demands of a large proportion of students in two key areas:
Accelerated academic terms: A recent report documented that this is the preference of more than 75 percent of graduate students.
Online programs and courses: NCES reports that 31 percent of graduate students enrolled in fully online programs in 2018. The higher education market shrank in 2018 (by 1.3 percent), while fully online enrollment grew by 5 percent.
Institutions without accelerated and online programs stand to be attractive to less than one-third of all graduate students.
2) Graduate programs need to speed up
Admissions speed is imperative in competing for graduate students. Recent market data indicate that more than 80 percent of graduate students enroll at the institution that admits them first. However, the following three findings illustrate that graduate programs have a long way to go to increase their response time at key decision points.



In an age of instantaneous response in nearly all that we do, responding to inquires in more than 24 hours later (let alone a matter of minutes) is not adequate. Institutions should aim to make admissions decisions in one week, and also ensure that multiple (more than two) starts are available annually in order to ensure that admitted students are not waiting months to start their first class.
3) Institutions are using ineffective channels and operations for graduate student marketing
The report had enrollment managers rate a number of marketing and recruitment channels by their effectiveness and whether they were used. The results showed a number of channels that were widely used but were not necessarily rated effective for inquiries or for follow-up.
Communication channels with new graduate students (private and public institutions)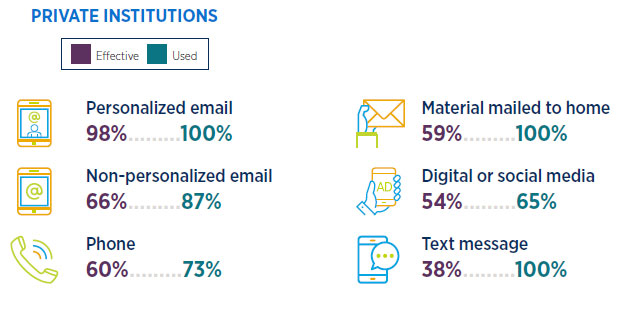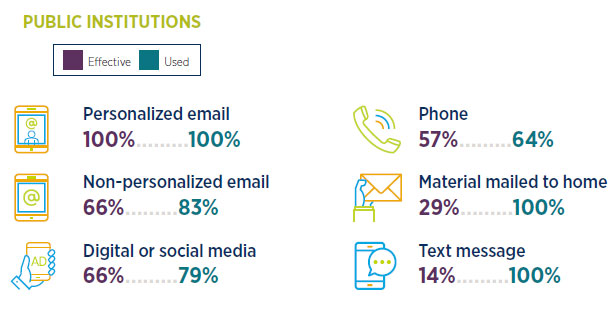 Perceived effectiveness of follow-up communications channels (private and public institutions)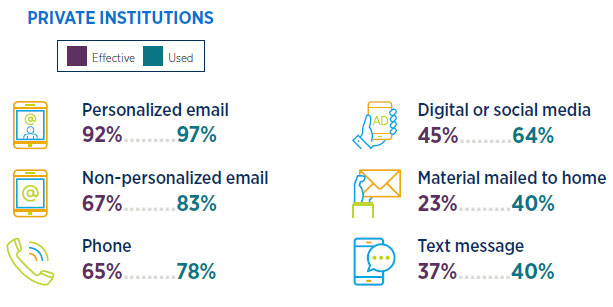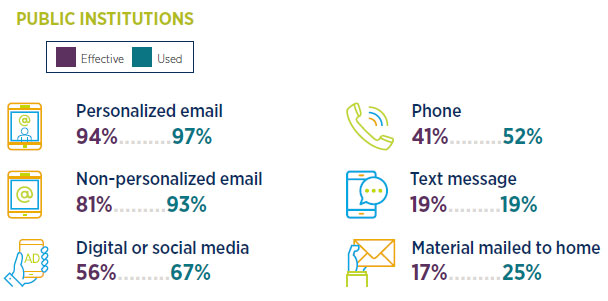 Graduate admissions/enrollment operations appear to be using many communications channels that they do not deem to be very effective. In many cases there is more than a 15-point difference between using a channel and thinking it is effective connecting with inquiries or applicants (e.g.: 83 percent of private institutions use non-personal email, but only 67 percent think it is an effective method of communication).
In other cases, the perception of effectiveness is not consistent with best marketing practices in 2020 (e.g.: only 45 percent of private institutions and 56 percent of public institutions believe that digital or social media advertising is effective). Institutions should focus their efforts on those channels that are proven to be effective in moving prospective students through the enrollment funnel.
4) Graduate programs need to get smarter about smartphones
Perhaps no result was more timely and important than the data about how institutions use mobile numbers in their graduate student marketing and recruitment.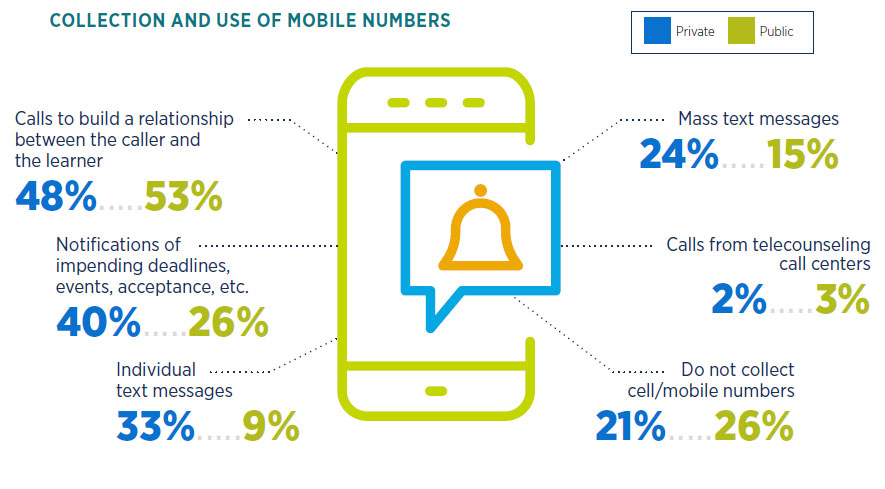 Texting is an area where graduate recruitment needs to improve, both in terms of frequency and engagement. With graduate students using text more frequently in their day-to-day communications, more campuses need to follow suit. Yet notice that 1 in 5 private campuses and 1 in 4 public institutions said they do not even collect mobile numbers. It will be crucial for universities to not only increase their use of mobile outreach but to design their strategies around smartphone communication.
5) What's most effective for one type of institution may not be effective for the other
Our report participants rated the effectiveness of inquiry strategies and advertising strategies they used. There was a a significant difference between public and private institutions in regard to what they see as the most effective—and least effective—ways to generate high quality inquiries. In fact, in at least one instance (using partnerships with the military to generate inquiries), private institutions rated this as among the most effective while public institutions ranked it among the least effective. Marketers should consider consulting colleagues from the alternate sector to see how they may be able to improve the effectiveness of their own use of various of the methods that are not working for them.
Again, I encourage you to download the report, which has 24 findings covering a wide range of graduate student marketing and recruitment practices.
Looking for strategies to boost graduate enrollment? Talk with our experts.

RNL's graduate enrollment experts are also ready to talk with you about optimizing your graduate enrollment, from strategies to lead generation, lead nurturing, and analytics.
Ask for a free consultation and they will happily discuss your challenges and potential approaches to solve them.
The post Graduate Student Marketing and Recruitment Practices: 5 Key Takeaways From New Research appeared first on Ruffalo Noel Levitz.