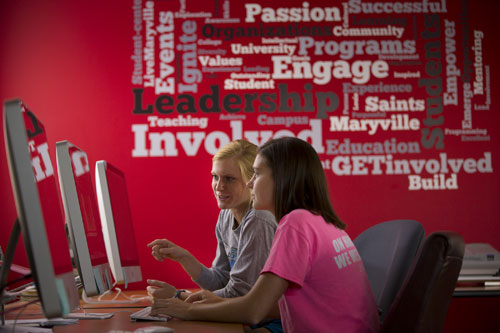 We all have blank walls on college campuses. You walk by them and daydream of the possibilities—large graphics, storytelling, outcomes of your current students.
Our colleague Trent Gilbert (vice president of enrollment management, Birmingham-Southern College) long ago coined the term "Wall Estate." Your Wall Estate is the lot of those blank walls just begging for something, anything to help tell your institutional story.
Our client, Hofstra University, is seizing the opportunity to make the most of their Wall Estate! Since working with us, Hofstra has implemented a campus-wide branding campaign to add more color, spirit and storytelling to bridges, stairwells, buildings and, most importantly, their Welcome Center.
Way to go, Hofstra!
"Hi, My Name Is…"
We've said it before: tour guides are the most important
people in this process. They have a lot of responsibility in guiding our
guests, answering their questions, and being genuine, authentic representatives
of their schools.
We love this video from our client, the University of Alabama at Birmingham, because it shows a well-trained ambassador doing one thing really, really well—flipping the question of "Why did I choose UAB?" to "What keeps me coming back to UAB?"
Keep telling stories, Jared! And a special shoutout to Tyler Peterson, executive director of admissions and financial assistance at UAB, for sharing with us.
Let's talk about telling your story during your campus visit experience
Want to see how to maximize your Wall Estate as part of a campus visit experience that engages and excites prospective students? Talk with us and see how RNL+Render can strengthen your campus visit. Schedule a time for a free consultation.
The post Maximizing Wall Estate to Tell Your Institutional Story appeared first on Ruffalo Noel Levitz.