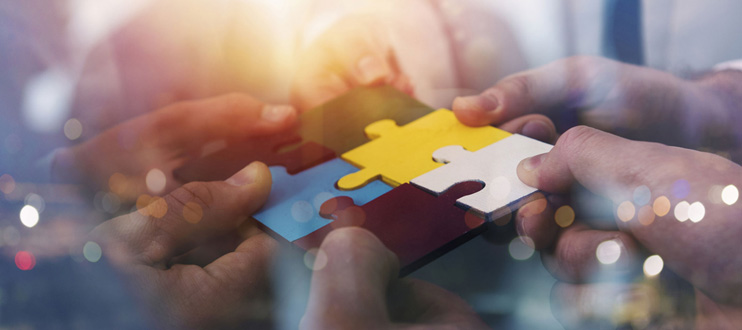 Charles Kettering once said, "If you have always done it that way, it is probably wrong." For RNL, 2019 was packed with 365 days of challenging the status quo, reimagining everything we do with higher education institutions, and perhaps more importantly, how we do it.
The result was a year of continuous fundraising innovation at RNL, and we wanted to share one more look at some of the key initiatives of 2019 before we charge into what is already shaping up to be another exciting year of innovation.
Artificial intelligence is a fundraising force multiplier
AI isn't going to replace all the staff in advancement offices, but it is already enabling us to make smarter real time decisions and create relevant, hyper-personalized experiences for every alumni and donor you engage.
At the start of 2019, we acquired an AI chatbot company that allows institutions to be there 24/7 for their alumni and students, creating a better online experience. AL, our AI chatbot, enables institutions to glean important insights into what constituents are asking and provides another digital channel to engage them after they interact with the chatbot. We've continued to evolve AL to expand beyond needing to authenticate with FaceBook and built integration with the RNL crowdfunding and giving day solutions, while evolving capabilities like droplets and analytics to create a more personalized and richer experience. The possibilities of how to leverage this technology are endless and it's been exciting to watch schools like UTSA leverage our AI chatbot product to engage alumni (with an assist from Taylor Swift).
This fall we announced the acquisition of RNL QuadWrangle, the first AI-powered alumni engagement platform that enables institutions to engage one to one with their alumni, delivering a hyper-personalized experience. It's a platform that's easy to use regardless of your team's technical background and doesn't require an IT investment. We've got big plans for RNL QuadWrangle in 2020. All our other products are being integrated with this newest addition to the RNL donor engagement family.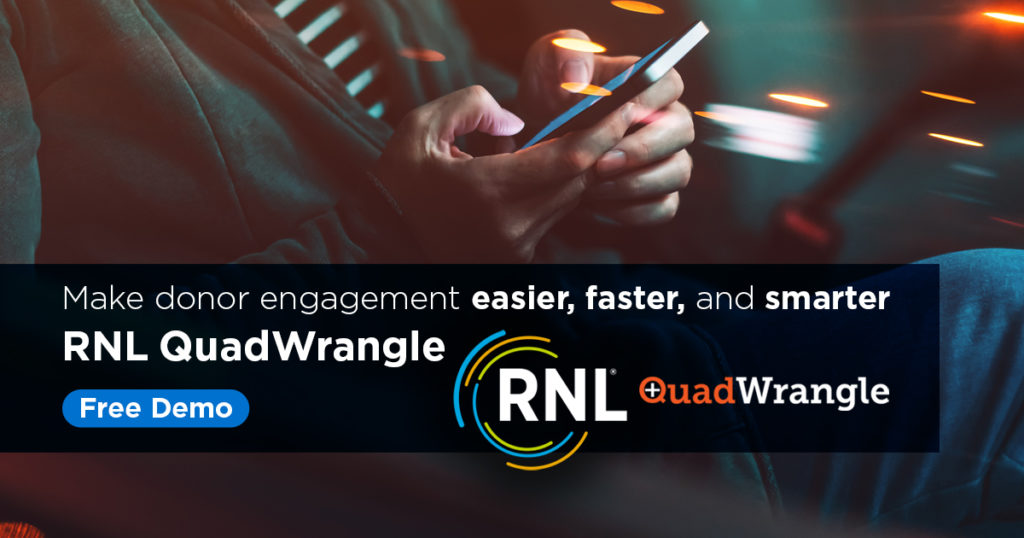 Digital-first fundraising is a game changer
RNL got a lot more digital this year with the acquisition of Converge, a digital agency that specializes in higher education, working with 300 graduate and online programs. Converge brought to RNL a wealth of talent, experience, and digital capabilities that allow RNL to provide more flexible digital, web, and social solutions as well as better analytics around performance of digital campaigns.
Helping institutions use the best digital and social channels for their audience, whether for targeted campaigns or ongoing digital engagement, is going to be a major focus in 2020.
Advanced fundraising analytics improves ROI
Last fall we began the first phase of a new initiative aimed to enable RNL and our clients with analytics that prescribe action, improve the donor experience, and ultimately increase the return on investment. Phase one included the building of several exciting models that can help instituions:
Focus limited resources on the acquisition prospects most likely to give.
Discover the ask string most likely to resonate with each donor and maximize donation amount.
Find the best times to call donors, saving considerable engagement center calling hours and budget.
The early results have been encouraging, and in early 2020 RNL will be launching our new analytics products and sharing more about the test results. We are also working on the integration of these analytics into products to help institutions make smarter strategic decisions and to automate manual processes, saving time and increasing efficiencies.
Digital Engagement Center replaces phonathon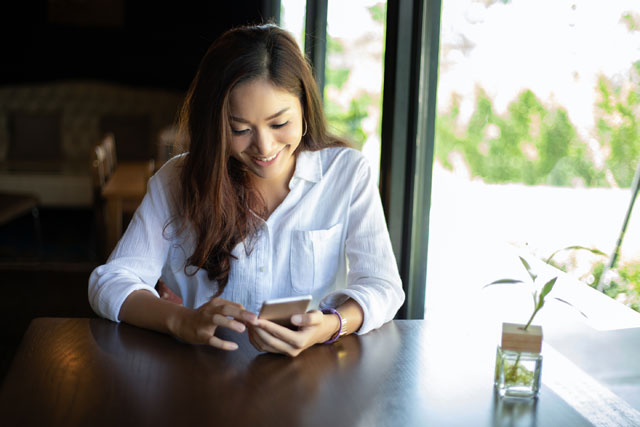 We are more connected now that at any time in human history…more specifically connected to our phones and mobile devices. Yet at the same time the effectiveness of traditional phonathons have waned for many institutions. The RNL Digital Engagement center allows institutions to think of mobile phones as a platform, with RNL's products able to create an integrated strategy to engage donors on their mobile device, leveraging an institution's student ambassadors and our software and expertise. While calling is still a core component, integrated text, video, and enhanced whitelisting and visual caller ID capabilities make the digital engagement center more personal and relevant at a time when it's harder to get someone to answer the phone for a call. Learn more about the our solutions for the next generation of donor engagement.
Innovation inspired by insights from campus partners
It's important to note that none of our fundraising innovation would be possible without our partnership with hundreds of institutions each year. I'd like to offer a special thanks to all those campus professionals who participated in innovation summits and advisory boards in 2019 and let us test these new innovations in their donor engagement programs. Your ideas and feedback influence our innovation roadmap and we encourage you to keep those ideas coming in the year ahead.
Look out for more fundraising innovation from RNL in 2020
Be on the lookout for some of our exciting news on new products, improved features and an improved client experience in the months ahead. It's going to be a great 2020.
We are also always ready to talk with you about the latest strategies and solutions for meeting your goals. Schedule a call with our fundraising experts and find out how we can help you engage more donors and accelerate giving.
The post 365 Days of Fundraising Innovation at RNL: A 2019 Recap appeared first on Ruffalo Noel Levitz.