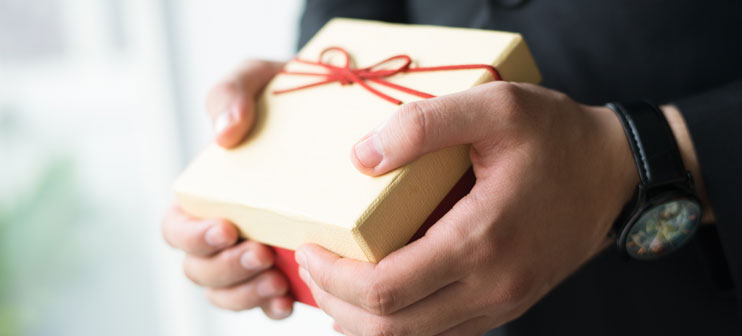 Along with everything we're doing for the holidays in our personal lives, those of us who have worked in higher education development know that the ramp up to CYE (or Calendar Year End) is intense. And, if you have done things right over the previous six months, it can also be one of the most productive times of the whole academic year.
Despite your carefully crafted appeals in September and your excellent crowdfunding campaigns in October, many donors will only begin the scramble to make their annual gift (and manage their tax burdens) during the last two months of the year, sending gift officers and development staff scurrying.
To recognize the unsung heroes of the Calendar Year End blitz, I made a suggested gift list for those annual giving officers and development staff who deserve some extra recognition this holiday season. VPs take note:
Give them cash
Your annual giving team wants to meet their goals. So, offer to add a little to the CYE mailing budget to add a segment or two. This is a great place to experiment with a new or emerging audience.
Get on the phone
Round up all the development assistants and gift officers one night to make pledge fulfillment calls when student callers are all mysteriously sick during finals week. The personal touch from a staff member will make a big difference.
Book leadership commitments, and boost morale
Reach out to your most involved supporters personally, and secure your trustee/leadership match pledges for you spring Giving Day BEFORE the end of the year. Rather than waiting until the week before the actual event, announce these commitment early at a staff meeting in December and pump up the team as they go into the holiday. Tell your leadership donors about what you are doing and that you want their help. This will make them feel like they are part of an effort, not just cutting a check.
Tech gifts are always appreciated
Explore an AI-powered content management system. These solutions are now less expensive and easier to get started. The personalized communications and solicitations will boost results during the second half of your fiscal year.
Be the example
Complete and turn in your own donor/prospect holiday greetings early, not at 5 PM on the last day of the semester.
Make your gift
And do it in a way that supports the team's effort. If they are pushing monthly gifts, sign up yourself. If a crowdfunding campaign is nearing it's deadline, join the effort. These gestures go a long way to boost morale.
Get social
Share the university's holiday greetings/year end appeal on your social media feeds and help to expand the digital footprint for the appeal.
Make it easy to give
Update your holiday out of office response before you leave with instructions for making an end of year gift.
Show them them they matter
Walk through the office and hug, handshake, or high-five for the die-hard folks who are putting in long hours during the last few days of the year to bring in those crucial end-of-year gifts. A little appreciation for the hard work goes a long way!
Share the holiday "spirits"
Leave a bottle of wine, a box of chocolates, or other appropriate holiday treat for the development staff who got stuck with the December 31 mail run.
Let's talk now or in the new year

Happy Holidays from RNL. I hope you meet your CYE goal, and you emerge from the holidays with energy to take your donor engagement to the next level.
My RNL colleagues and I are also happy to talk with you about how you can meet your goals in 2020. Reach out for a free consultation and let's figure out how you can make next year your best year of giving ever.
The post 10 Holiday Gift Ideas for Your Annual Giving Team appeared first on Ruffalo Noel Levitz.